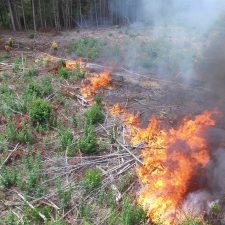 Fuels management in northern mixedwoods in light of an uncertain climate future
Problem Addressed:
Alternative fuels management approaches within an uncertain climate future
Goal(s)/Objective(s):
Quantify effects of fuels management on fuels and stand growth
Key Findings:
Reduced fine fuels following burning; Increased hardwood regeneration following harvest
Peer Reviewers/Endorsers:
N/A
Abstract:
With projected increases in Maine's summer temperatures and growing season length, there are concerns for changes in disturbance regimes such as fire frequency and severity. Given Maine's historically long fire return intervals, minimal research has addressed fuels mitigation and resulting stand development outcomes. To address these concerns, we utilized an existing U.S. Forest Service study located on the Penobscot Experimental Forest in Bradley, ME, USA. Stands of northern mixedwood (Picea – Abies – hardwood) composition were treated in 2018 with strip-cutting using: 1) stem-only harvesting (SOH); 2) stem-only harvesting with prescribed burning (SOHB); and 3) whole-tree harvesting (WTH). Our objectives were to: 1) evaluate effects of common harvest methods (SOH and WTH) and prescribed burning (SOHB) on fuels/deadwood structure; and 2) compare tree regeneration composition across treatments. Prior to prescribed burn application, we measured fuels by size class (1-hr, 10-hr, 100-hr, and 1000-hr size classes), fuel height, litter and duff depth, as well as density of tree regeneration ≥15 cm in height to <1.3 cm diameter at breast height. Overall, harvesting resulted in a 73 (± 14.4 standard deviation; SD) percent average reduction in above-ground woody biomass. The greatest reduction [89 (± 5.2 SD) percent] and lowest fuel height resulted from WTH. There were few differences observed in litter and duff depths across harvesting treatments. Density of tree regeneration increased in all treatments, compared to pre-harvest estimates, and was dominated by hardwoods (mostly Populus spp.). Post-burn data were recently collected in late fall. Analysis is ongoing. Results will inform forest managers about structural and compositional outcomes of slash/fuels management in northern mixedwoods.