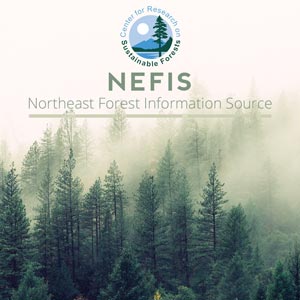 Patterns of tree mortality during an uncontrolled spruce budwrom outbreak in Baxter State Park, 1983
Problem Addressed:
Measure the impact of a spruce budworm outbreak on unprotected forests
Goal(s)/Objective(s):
Estimate volume of living trees and quantity of spruce and fir killed by budworm
[mrp_rating_result no_rating_results_text="No ratings yet" before_count="(" after_count=" ratings)"]
Osawa, Akira
School of Forestry and Environmental Studies, Yale University

Spies III, Charles J.
Entomology Department, University of Maine

Dimond, John B.
Entomology Department, University of Maine

Abstract:
A forest inventory of Baxter State Park, Maine was done during the summer and fall of 1983 to study the patterns of mortality in balsam fir (Abies balsamea (L.) Mill.) and in the red-black spruce complex (Picea rubens Sarg., P. mariana (Mill.) BSP. and their hybrids) during an uncontrolled spruce budworm outbreak. In total, 6,953,000 cubic meters of living trees were present, excluding the ones in hardwood forests. Spruce was the most abundant species with 61% of the total stem volume. The volume of trees that died during the outbreak was estimated as 4,647,000 cubic meters; 40% of the original quantity. Dead stem volume was 2,570,006 cubic meters for fir and 1,500,000 cubic meters for spruce. They correspond to 77% and 27% of the original stem volumes in fir and in spruce, respectively.
Two mortality patterns were apparent. The fir mortality was consistently greater than that of spruce. The percentage mortality of spruce was always greater in the higher elevation zone than in the lower. Percentage mortality of fir and of spruce showed inconsistent patterns in relation to the proportion of hardwood species basal area and to the proportion of fir basal area in a stand. However, those mortality patterns tended to be pronounced when the overall tree mortality was relatively high. Except for the elevation, topographical factors (slope inclination, position on slope, and aspect) were not consistently related to the mortality. The tree mortality patterns could not be completely explained by multiple regression analysis, with 40% to 60% of variation of mortality remaining unexplained.
The hypotheses on the mechanisms producing the tree mortality patterns during a budworm outbreak were summarized and the observed tree mortality patterns were then interpreted according to those hypotheses. Most observed patterns could be explained by more than one hypothesis. It was suggested that complex processes were responsible for developing certain tree mortality patterns, and a deductive method based on the simple observations would not reveal the true mechanisms. As an alternative, an inductive method of controlled field experiments is recommended.