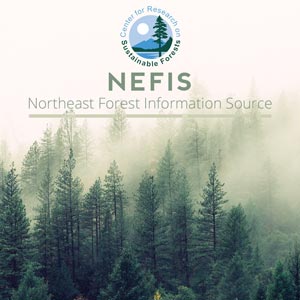 Stand Development, Growth Patterns, and Regeneration Success of Red Oak in an Oak-Pine Forest in Southern Maine
[mrp_rating_result no_rating_results_text="No ratings yet" before_count="(" after_count=" ratings)"]
Clark, Tamara L.
University of Maine School of Forest Resources

Abstract:
In recent decades there has been a decline in the ability of red oak (Quercus rubra L.) to regenerated and attain canopy status throughout most of its range. This decline has been linked to natural and anthropogenic disturbances. The history of the Holt Research Forest (HRF) in Arrowsic, Maine, has been fairly well documented and may be a determinant of current oak-pine forest. Two farms were present on what is now the HRF, during most of the 19th century and part of the 20th century. Treatments of the land differed during operations of the farms, as did their times of abandonment. During the summer of 1996, trees were cored from two stand of the same soil drainage class and cover type, but on sites that were originally part of the two different which correspond with the north and south portions of the study area. Red oak and white pine (Pinus strobus L.) were cored at breast height and their ages and radial growth patterns determined. The northern stand, which is part of the most recently abandoned farm, consisted of younger trees that the southern stand and most of the pines reached breast height 20 years earlier that the oaks. In the southern stand the largest oak and pine cohorts both reached breast height in the same decade. Growth patterns and other evidence indicate that the harvests on the south farm may have resulted in the difference in recruitment patterns. Gypsy moth outbreaks also may have influenced the development of the stands.
The examination of seedlings in different environmental conditions is a more direct approach to studying the regeneration problem. The read oak cohort from a mast year in 1993 was observed in 1994 and 1995 in relation to several factors: disturbance, light, soil drainage class, competition and cover type. In addition, the distribution of saplings was studied as a function of overstory characteristics. There were almost no seedlings in harvest gaps, created in 1987-88. Most of the other factors tested were not significantly related to seedlings density or growth in either year. Oak sapling density was negatively correlated with the surrounding basal area and density of oaks and also with the density of all tree species.
Results from both portions of the study imply that the recruitment associated with harvesting may have been due to release of advance regeneration rather that germination and establishment of new seedlings. The lack of correlates between seedlings density and the environment coupled with the negative correlation between saplings and overstory suggest that the environment may become more important to seedling success as that grow.