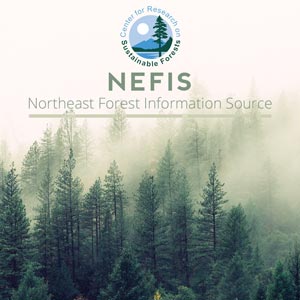 Helicopter Application of Insecticides for Suppression of White Pine Weevil Populations–A Pilot Study
Goal(s)/Objective(s):
Determine the feasibility of helicopter application of insecticides in the fall for suppression of white pine weevil populations
Key Findings:
Only the permethrin treatment resulted in a noticeable decline in amount of terminal damage the following summer
[mrp_rating_result no_rating_results_text="No ratings yet" before_count="(" after_count=" ratings)"]
Dixon, Wayne N.
University of Maine

Houseweart, Mark W.
University of Maine

Dimond, John B.
University of Maine

Osgood, Eben A.
University of Maine

Abstract:
White pine weevil (Píssodes stz,obd (Peck) ) damage to the terminal leaders of eastern white pine (Pinus strobus L.) considerably reduces height growth and value of lumber (Brace 1971). Lack of effective weevil control prevents growing straight, high-value trees in central and southern Maine for lumber or pulpwood. The current recommendation for suppression of weevil populations is to apply an insecticide to the terminal leaders in the spring before adult weevils have completed their egg-layíng (Chadwick and LaBonte 1974). Limitations arise from the small target area, short time span applicable, and concurrent activity of beneficial insects. An alternative approach ís to apply an insecticide in the fall. Advantages of fall application are (1) brood adults are feeding on current-year bark of upper crown branches (Dixon and Houseweart 1978; Dixon et al. 1979) and (2) beneficial insects are removed from insecticide exposure by overwintering within prey-infested leaders. DDT applíed by nistblower and helicopter in late September in New York significantly reduced white pine weevil infestation rates (Connola et al. 1955; Connola and Smith 1964). However, DDT is no longer available.