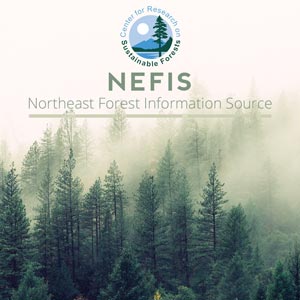 Frugivory and Seed Dispersal of Fleshy-Fruiting Plants in a Northern Temperate Forest
Whitman, Andrew A.
The Graduate School, University of Maine

Abstract:
In a northern temperate forest, I determined patterns in fruit biomass, reproduction, phenology, and fruit characteristic of fleshy-fruiting plants, and investigated the dispersal ecology of Aralia nudicaulis (wild sarsaparilla) in order to understand the ecology of fleshy-fruiting plants and the importance frugivore-plant interactions to plants and animals.
(1) I measured fruit biomass from 1987-1990 to determine which environmental factors affected fruit biomass. Total fruit biomass and fruit biomass of shrub species increased after logging because removal of canopy increased light. Weather may have affected fruit biomass; weather in the year of peak biomass was unique among the four years. Unlike other sites, herb species contributed more to total fruit biomass in intact forest than shrub species did. Total fruit biomass was similar to that in other northern forests but less than in southern forests.
(2) I measured fruiting phenology from July to October 1987. Richness of species in fruit peaked in August but fruit biomass peaked in July and September. Major avian frugivore abundance was correlated with richness of species in fruit and fruit-removal rates of 14 species. Fruiting plants probably compete for dispersers as fruit-removal rates were less when fruit biomass was high. Small mammals were seed dispersers and predators but not a consistent selective force on phenology. Fruiting phenology was associated with plant family. Fruiting phenology patterns in temperate forests may strongly reflect constraints imposed by physiology, climate, and phylogeny and only weakly reflect selective forces imposed by disperser abundance and competition.
(3) Three types of disperser syndromes emerged to define endpoints of a disperser-gradient triad: species that were dispersed by bird/large carnivorous mammals, by birds/small mammals, and by birds only. Species of the first group are woody species of edge/gap habits, fruit early, offer a high reward by producing large fruits with low seed mass, have high dispersal rates, and were limited to three families. Forest herbs that yield a moderate reward by producing fruits of a moderate size and seed mass, and had low removal rates constitute the second group. The third group fruits late and offers a small reward by producing small fruits with large seed mass. This parading recognized the implicit role of phylogeny in determining seed dispersers and fruit characters.
(4) Birds and red foxes differed in their dispersal of A. nudicaulis. Foxes removed up to 30% of fruit and birds removed the rest. Foxes deposited seeds at densities more likely to be detected by seed predators but less likely to be completely consumed as compared with seed densities of bird-deposited seeds. Foxes may be better dispersers than birds because they deposit seeds along trials where germination and seedling survival were greater than in forest sites and canopy gaps to which birds probably disperse seeds.
(5) Soil conditions, forest structure and composition of each site, and large disturbances (e.g., harvest gaps >100m2) affected A. nudicaulis ramen age structure, recruitment, and growth more than subtle and temporally varying factors such as tree fall gaps, canopy defoliation, climate, and growth of overstay trees.