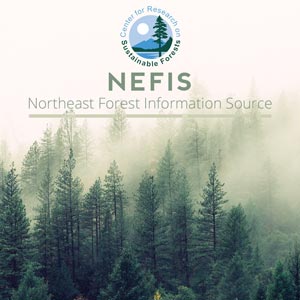 Environmental Monitoring Reports 1982 – Maine Cooperative Spruce Budworm Suppression Project
Elizabeth Gibbs, K.
University of Maine at Orono - Department of Entomology

Mingo, Terry M.
University of Maine at Orono - Department of Entomology

Courtemanch, David L.
Maine Department of Environmental Protection

Hasen, Richard W.
University of Maine at Orono - Department of Entomology

Osgood, Eben
University of Maine at Orono - Department of Entomology

Simon, Kenneth A.
Envirosystems Divison - Peck Environmental Laboratory, INC.

Oliveri, Stephen F.
Maine Forest Service

Famous, Norman C.
Maine Forest Service - Consultant

Abstract:
During the 1982 Spruce Budworm Suppression Program, the Maine Forest Service
continued the environmental monitoring and research program which has been ongoing since 1976. The studies conducted were selected by the Maine Forest Service following recommendations from the Spruce Budworm Environmental Monitoring Committee.
Two of the studies continue projects begun in previous years. The report by Gibbs et al. concludes the investigation which began in 1980 on the effects of a simulated accidental overspray on a pond ecosystem. This study, which is being continued through 11983 constitutes one of the first long-term monitoring studies of the effects of insecticides on a pond ecosystem. The second continuation study, by Hansen and Osgood, looks at the relationship between temperature at time of spraying and impact upon pollination and fruit-set of wild plants. The information gained from this study will help the Maine Forest Service to reduce the impact of spruce budworm spraying on insect pollinators.
The third study details the results of a bioassay conducted upon the two most common crayfish species in Maine. The crayfish were tested at the Peck Environmental Laboratory for their sensitivity to carbaryl and its principal breakdown product 1-Naphthol' as well as to the formulated Sevin-4-Oil tank mix. The results indicate that carbaryl spraying for budworm suppression has not had an adverse effect upon crayfish populations in Maine.
Finally, the fourth study conducted by Oliveri and Famous compares bird populations in two spruce-fir forest stands, one that has suffered severe mortality from the spruce budworm, and another that has been kept alive by spraying. The temporary increase in habitat diversity resulting from mortality of the spruce-fir overstory caused an increase in the number of birds in the moribund areas as well as a shift in bird species composition toward those adapted to mixed wood and early successional stages.
Also in 1982, a University of Maine interdisciplinary team headed by Hunter and Gibbs designed a Long-Term Environmental Monitoring Techniques Manual. During 1983, the protocol is being tested in 22 spruce-fir forest sites. The sites include areas of various histories and budworm infestation conditions. Terrestrial, aquatic, vertebrate and invertebrate organisms will be monitored as well as stream quality, leaf processing rates and terrestrial habitat factors.