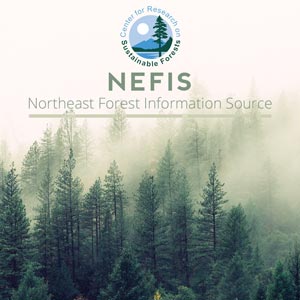 Dendrochronological reconstruction of spruce budworm outbreaks in northern Maine, USA
Problem Addressed:
Detection of major spruce budworm outbreaks in Maine
Goal(s)/Objective(s):
Reconstruct the history of major spruce budworm outbreaks in northern interior Maine using host–nonhost dendrochronological analyses, contrast the outbreaks detected in this region to those of eastern Canada; and evaluate the efficacy of using radial growth patterns of small spruce trees for the purpose of detecting outbreaks.
Key Findings:
Small-diameter, slow-growing red spruces clearly express the typical budworm signal once ring-width data have been properly standardized.
[mrp_rating_result no_rating_results_text="No ratings yet" before_count="(" after_count=" ratings)"]
Fraver, Shawn
School of Forest Resources, University of Maine

Seymour, Robert S.

Speer, James H.

White, Alan S.

Abstract:
Using dendrochronological analyses, we reconstructed a 300 year history of eastern spruce budworm (Choristo-neura fumiferana (Clem.)) outbreaks in northern interior Maine. By analyzing radial growth patterns from the budworm host, red spruce (Picea rubens Sarg.), and nonhost, northern white cedar (Thuja occidentalis L.), we identified five outbreaks beginning ca. 1709, 1762, 1808, 1914, and 1976, all of which have been documented from eastern Canada. However, little or no evidence was found in our study for the 1830s, 1870s, or 1940s outbreaks also documented there. The mean outbreak return interval in our study (67 years) was roughly twice that postulated for eastern Canada. Differences in forest types, and associated stand dynamics, between the regions may explain the longer return intervals, and consequently the absence of these three outbreaks in Maine. Results also indicate that small, slow-growing trees exhibit a budworm signal very similar to that of overstory trees, once tree-ring series have been properly standardized.