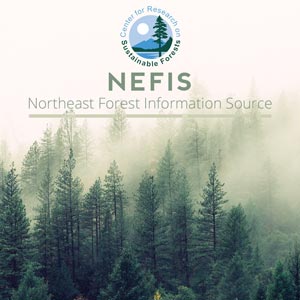 Assessing spatial and temporal dynamics of a spruce budworm outbreak across the complex forested landscape of Maine, USA
Date Published:
01/04/2021
Problem Addressed:
Spruce budworm defoliation & disturbance, population dynamics
Chen, Cen
University of Maine, School of Forest Resources

Rahimzadeh-Bajgiran, Parinaz
University of Maine, School of Forest Resources

Weiskittel, Aaron
University of Maine, School of Forest Resources

Abstract:
Simulated spruce budworm (SBW; Choristoneura fumiferana (Clem.)) defoliation generally becomes ubiquitous in 3 years after its initiation in agreement with historical observations despite varying environmental and stand conditions over large ranges. Current-year defoliation has almost no correlation with defoliation more than 1 year ago at the same location, which may be related to the role of SBW dispersal in sustaining defoliation across space and time. Mitigation practices like insecticide spraying may be more efficient if applied early to initial spots (epicenters) of defoliation, while management probably should focus on improving forests' resilience to withstand repeated defoliation by altering species composition. Our model provides quantitative information flexible in spatial and temporal scales yet directly usable in existing forest growth and yield modeling frameworks and management decision support systems.